Black History Month: Celebrating Black Musicians
Celeeeebrate good times COME ON!
Hello, all! Here I am, once again, to present some of my very correct musical opinions and expertise. However, this won't be another one of my "ranking" articles, or a deep dive into a specific artist. Today, I will be celebrating 5 of my most favorite black musicians and their accomplishments, along with their impact on society as a whole. Black artists have paved the way for music for hundreds of years, and modern day artists/20th century artists are no exception! So, to start off the Talon's Black History Month celebration, I present some of the most influential artists of all time and their influence on music, as well as the world.
***DISCLAIMER: I am in no way saying that any of these artists are better or more well known than the others; I just don't have enough time to cover all that ground. Let me know if you want a part 2 with my honorable mentions…Happy Black History Month!!!
Kendrick Lamar
Without a doubt, Kendrick Lamar is one of the most influential rappers of all time. He's dominated the industry for the better half of this past decade, and he hasn't released an album in 4 years. Although disappointing, I think it's fair to say Kendrick is allowed to move at his own pace when it comes to creating new music. I mean, after all, he did create two of the best albums I've ever heard in my entire life, so it's obviously going to be hard to top those.
Success:
Kendrick Lamar created the album "Good Kid, M.A.A.D City" and released it on 22 October, 2012. From there, he exploded, sending him to the top of the rap charts in America. "GKMC" was not his first album, or even his first piece of success. However, his detailed descriptions of racial discrimination, life growing up in Compton, California, and how being a black man has affected his person today projected him into the spotlight. These themes are nothing new, of course, and Lamar himself recognizes that: he says he's influenced by NWA (who we'll discuss later…) who were known for their work with these same ideas. Lamar separates himself from the rest because of his raw talent. Between his lyricism and his recognizable sound, Lamar easily made a name for himself after the release of "Hiipower", a song off of his second album "Section.80". Now that the background has essentially been glossed over, we can discuss the influence of "GKMC", and eventually (his best album) "To Pimp a Butterfly".
Influence:
As previously stated, "GKMC" sent Lamar straight to the billboard charts. In 2015, Lamar released "To Pimp a Butterfly", an even deep
er exposé on life in Compton. I could write a full essay about this album (and I did my freshman year…), but I'll spare you a couple hundred words and give you a synopsis of "TPAB" and its influence. "TPAB" has amazing songs of great value, of course, such as "King Kunta", "Institutionalized", "u", and "How Much a Dollar Cost". However, one song, arguably his most popular song, "Alright", pushed him further and further to becoming one of the greats. In 2015, the same year as the album's release, the Black Lives Matter movement was in full swing in hopes of ending police brutality among the black community in America. Although no strides have been made, and 2020's BLM protests being proof of this, protesters related to police brutality and discrimination as described by Lamar. "Alright" became the unofficial anthem of the 2015 movement and was featured in most of the 2020 BLM protests and social media posts. I have to laugh, because some people were "upset" that Lamar was "silent" during the second wave, but we have to remember: his entire career is based on BLM. I mean, c'mon? He won the Pulitzer Prize for his music!
Here are some lyrics that I think will explain his influence a little more to those who aren't as invested in him as I am:
"Won't you please believe when I say, 'Wouldn't you know, we've been hurt and down before'…when our pride was low, lookin' at the world like 'Where do we go'…and we hate po-po, wanna kill us dead in the street fo sho'…I'm at the preachers door, my knees gettin' weak and my gun might blow but we gon' be alright"
I know, it's quite long, but every aspect of the bridge in "Alright" portrays the exact feelings of BLM protesters at the time, and still portrays feelings on brutality to this day. Nothing has changed, but the black community deserves the world at this point, and Kdot epitomizes that.
Kanye West
I know this is super controversial, given his recent actions and statements over the past couple of years. But, I refuse to completely ignore Ye's production talent. He's created 11 albums under his own name, and even more if you count production.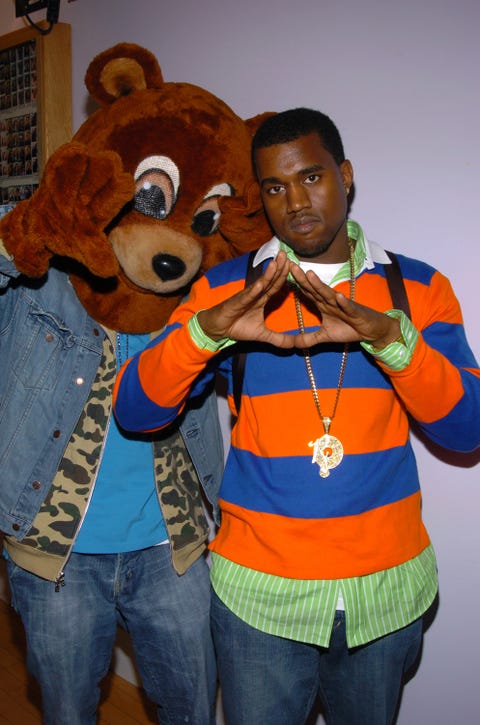 Success:
Ye's success is a little different than Kendrick's. Ye has been in the music industry since before I was born…oh my god that sounds insane…but I'm serious. From "The College Dropout" featuring hit singles like "We Don't Care", "Graduation Day", and "Spaceship" that are defining songs of 2004 to more recent success with his "Ye" album in 2018, Kanye West has been around for quite some time. Kanye's success stems from his lyricism and creativity, of course, but it also lies in his "spunky", for lack of a better word, personality. Kanye's "I can do whatever I want" attitude has led him to be comic relief as well as the topic of mainstream conversation for all. And to top it all off, he's one of the most, if not the most, successful musician turned businessman to ever exist. He still produces music to this very day! Talk about an accomplished man… Again, it would take me a multi-paged essay to cover every aspect of Kanye West since 2004, but I'll save you the read. Overall, Kanye is the epitome of wealth and success, not to mention the amount of influence he's had on the rest of the country.
Influence:
I'm going to have to split this into three sections, because Kanye has multiple sides where he influences the masses. See, that's just how amazing he is, if you think about it.
Mental Health Awareness: Although not intentionally, Kanye has been quite the poster child for a mental illness known as Bipolar disorder in the recent years. He was officially diagnosed in 2016, and his actions present to the public how truly difficult it is to live with said disorder. Since Kanye is one of the many people who refuses medication for Bipolar (due to its robot-like effects), his "weird" actions have been portrayed in the media. Stigmatic labels are not fair to give those who have Bipolar; the stigma surrounding the disorder revolves around the idea that people with Bipolar are, indeed, crazy. Kanye's struggle with mental illness has been portrayed in many ways, most importantly being through his music, which allows people to see what goes through his mind while he's making these "odd" choices. With his diagnosis out in the public, and with it being a huge theme in his more recent music, it has allowed people to see that no matter who you are, how famous you may be, anyone can struggle with their mental health. His music has allowed the world to see parts of what it's like to have Bipolar; the manic and the depressive symptoms. Though people still think those who have Bipolar are crazy, Kanye's music also reflects his struggles.
Here's some lyrics from his song "Ghost Town" (one of my most favorite songs of all time) from his album labeled "Ye" where he mostly discusses his struggles with Bipolar:
"Sometimes I take all the shine, talk like I drank all the wine, years ahead but way behind…no half truths, just naked minds, caught between space and time"
These lyrics reflect how he feels when he's in a manic state; the excessive, wild thoughts he may be having. This is the reality for many people with the disorder who sometimes feel as though they can't feel or think for themselves.
Production: Kanye has brought/signed some of the most well known and talented hip/hop artists we know today. From his major successes such as Big Sean, Pusha T (current president of his label "GOOD music"), Kid Cudi (Kids See Ghosts), Common, Sheck Wes, John Legend, Kacy Hill, and production from Travis Scott. The list goes on and on, but some of our most favorite artists had their start and continue to work with Kanye and his amazing production. Other than the people he's helped bring to the spotlight, he's also produced some of the best songs I've ever heard in my life. The following is a comprehensive list of some of my most favorite Kanye produced songs:
"Runaway", Kanye West, "My Beautiful Dark Twisted Fantasy"
"Fourfiveseconds", Kanye West/Rihanna/Paul McCartney, single
"'03 Bonnie and Clyde", Jay Z/Beyonce, "The Blueprint 2: The Gift and The Curse"
"You Don't Know My Name", Alicia Keys, "The Diary of Alicia Keys"
"Monster", Kanye West/Jay Z/Rick Ross/Nicki Minaj/Bon Iver, "My Beautiful Dark Twisted Fantasy"
"B**** Better Have My Money", Rihanna, "ANTI"
The entire "Kids See Ghosts" Album, especially "Freeee (Ghost Town pt. 2)"
Business: Kanye West pretty much paved the way for the mix of music and fashion intertwining. His shoe brand "Yeezy" was created in partnership with popular shoe brand, Adidas, in 2015. The first shoe, the Yeezy "Boost 750"  released in February of 2015, and needless to say, all rap and shoe fans went ballistic. The "Yeezy" shoe brand became one of the most coveted brands in the high end sneaker scene, and Kanye pretty much started the hype for rapper/shoe collaborations. Many shoe enthusiasts continue to fight tooth and nail on release day due to their large resale value, and Ye completely capitalizes on it. He eventually began releasing a clothing line under the same name, further projecting his influence in the fashion world as well as the music world.
The Jimi Hendrix Experience (Just Jimi)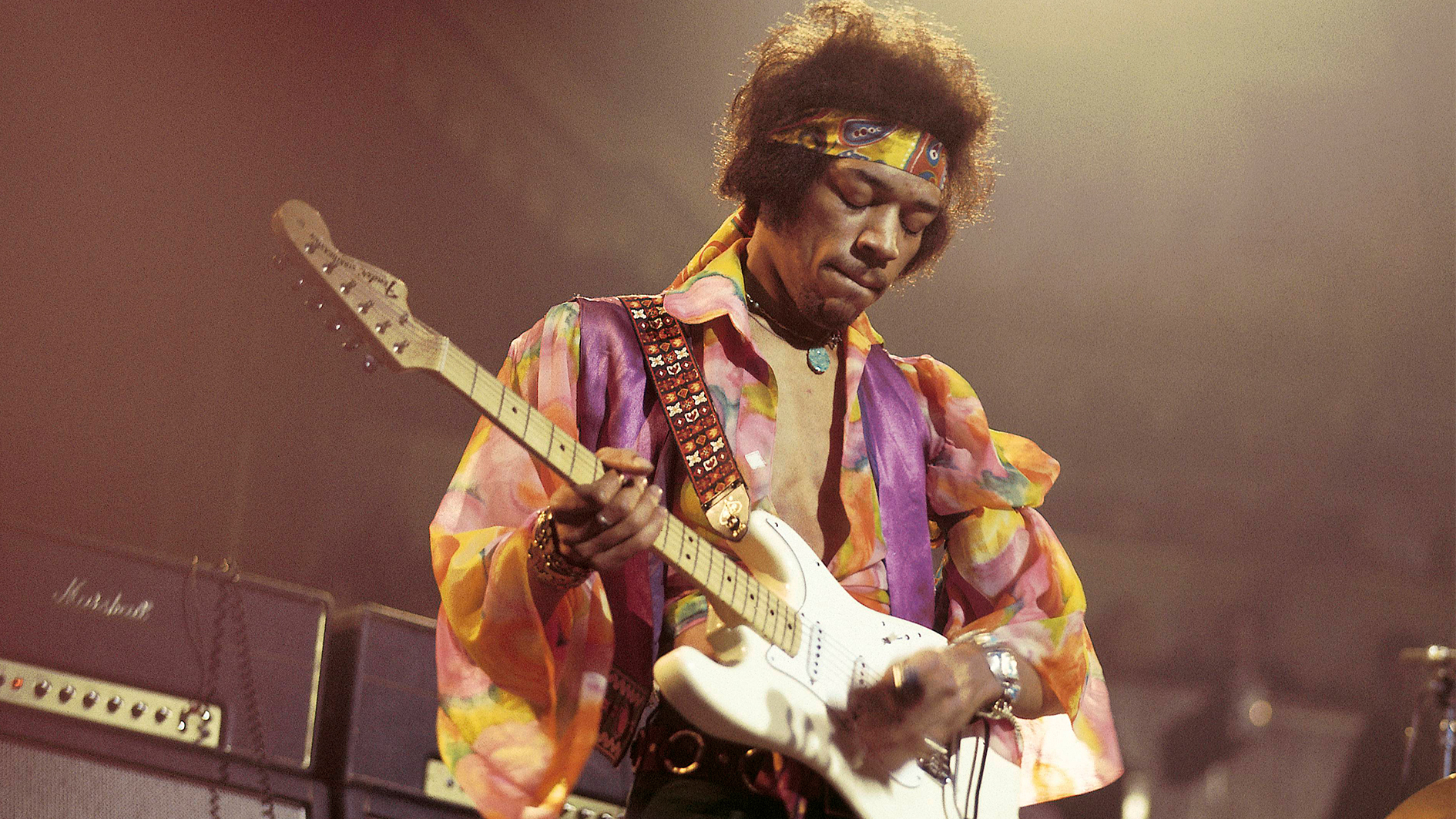 The rockstar himself, the man, the myth, the legend: Jimi Hendrix. Hendrix was a popular rock artist known for his amazing guitar skills. Not to mention, he was one of the first black men to make it into the rock music industry and claim fame decades after his passing. With songs like "All Along the Watchtower" and my personal favorite, "Valleys of Neptune", Hendrix was, and still is, known as one of the best electric guitar players of all time. When Jimi played, he put on a show. Maybe it's because of his love for LSD or his rockstar attitude, but regardless, Jimi is an influence to so many musicians regardless of their background or musical style; some including Post Malone, Lenny Kravitz, Slash, Prince, Joey Bada$$, and arguably his most vocal fan, Future.
Success:
In the year 1968, Hendrix was at the peak of his career; one that seemed as though it would last forever. Just a year prior, Hendrix had performed one of his most iconic shows at the Monterey Pop Festival-he set his guitar on fire. Hendrix was a complete product of his time. He represented the hippie movement of the late 60s to a t: the flower-power clothes, colorful jackets (think Prince), and music reflecting thoughts of the time. Hendrix was super passionate about his music, and in multiple interviews, he made his passion known. He told Rolling Stone in 1968 that he worked constantly on riffs and bettering himself, and it definitely shows. Hendrix is arguably one of the greatest guitar players of all time with some of the most recognizable riffs.
Here's a chorus I find particularly representative of him as a musician:
"Singing about the Valley of Sunsets…Purple and gold, the Armies of the Lord. Before ancient Egypt there moon trips…The Valleys of Neptune is rising" (From "Valleys of Neptune")
It's hard to decipher what Hendrix means in this chorus, and one can only assume it means to escape from a terrible reality. His lyrics and phrasing makes his music have a gospel wrong sound to it, which derives from Rock N Roll genius, Rosetta Tharpe (who we'll discuss later…).
On August 18, 1969, Hendrix performed at the iconic music festival, Woodstock. A large crowd turned out to see Jimi perform- and in the images provided, it seems as though his attendance reached half a million people, more or less! Jimi performed the "Star Spangled Banner", which was not quite a surprise since he had done it many times throughout the years, but transformed it into a medley of some of his most popular songs. This had been one of his most iconic performances of all time, and he gave it his all, rounding out the set with an encore.
Influence:
I've already discussed his outstanding performances and success during the peak of his career, but his influence continues past said peak. On September 18, 1970, Hendrix passed away in London, England due to a barbiturates (sleeping pill) overdose. He died at the young age of 27, leaving his major success, but most importantly, his legacy, behind. 50 years have passed since Hendrix's death, but his career will no doubt stand the test of time for years to come, especially considering the amount of artists who have idolized his dedication.
NWA
Ok, we arrive at the rap group to influence almost every rap artist of the past 20 years: NWA. Their influence lies in more than just being a rockin' group that hates the police; they started a movement. I'm not going to tell you what NWA stands for, you can do that on your own time. But I highly recommend you call them by their abbreviation…
Success:
NWA was an American rap group from Compton, California, and many refer to them as the "pioneers" of the gangsta-rap genre. Members included Arabian Prince, Eazy-E, DJ Yella, Dr. Dre, Ice Cube, and MC Ren and the group rocked together from the late 80s until their departure in 1991. Their music was controversial for the time; many thought they glorified violence and drug use, when they were expressing their truth about police brutality and beliefs about the world. Their debut studio album named "Straight Outta Compton", which I'm sure you've heard of, if not, pick up a book, was a major success-with influence lasting to this very day. Their second studio album…which I won't name, was the first nobody-doubts-it rap album to reach number 1 on the Billboard 200 charts. In this next section, I will be describing every aspect of their most famous work: "Straight Outta Compton".
STRAIGHT OUTTA COMPTON BABYYYY : Basically, "Straight Outta Compton" was the original "Good Kid M.A.A.D City"–the description of life growing up in Compton, police brutality, racial discrimination and the effects of gentrification are explored and brought to mainstream attention. Both of my parents, who are not fond of the rap genre, get a little pep in their step when one of their catchy hits plays nearby. The combination of an overall catchy tune and perspective changing lyrics projected them into the spotlight; Eazy, Yella, Ice Cube, Ren, and Dre all went platinum with their work with NWA a continue to celebrate it in honor of the passing of Eazy-E to this very day.
Influence:
In this first section regarding their influence, I will be discussing said influence surrounding the first 3 tracks of their most iconic album, "SOC".
Straight Outta Compton- The song: This is the first track on the album and since it's their debut, this song acts as the intro to who they are as a band. In their lyrics, you can hear them just talking about their day to day in Compton; the violence, drugs, and all. In my opinion, I think this is the best possible thing they could've written as their first ever "track 1". Not only do their rapping abilities shine, but the lyrics themselves explain more than they may seem. Although an introductory track, the song "Straight Outta Compton" sets the scene for everything NWA stands for.
Notable lyrics: "You'll probably get mad like a ***** is supposed to, but that shows me…you're composed to"
Ren describes how their lyrics are controversial and offensive, but how the group doesn't really care much; to them, they are just speaking their truth. He's saying how people will only get mad at their lyrics because of a racist system that teaches censorship as such.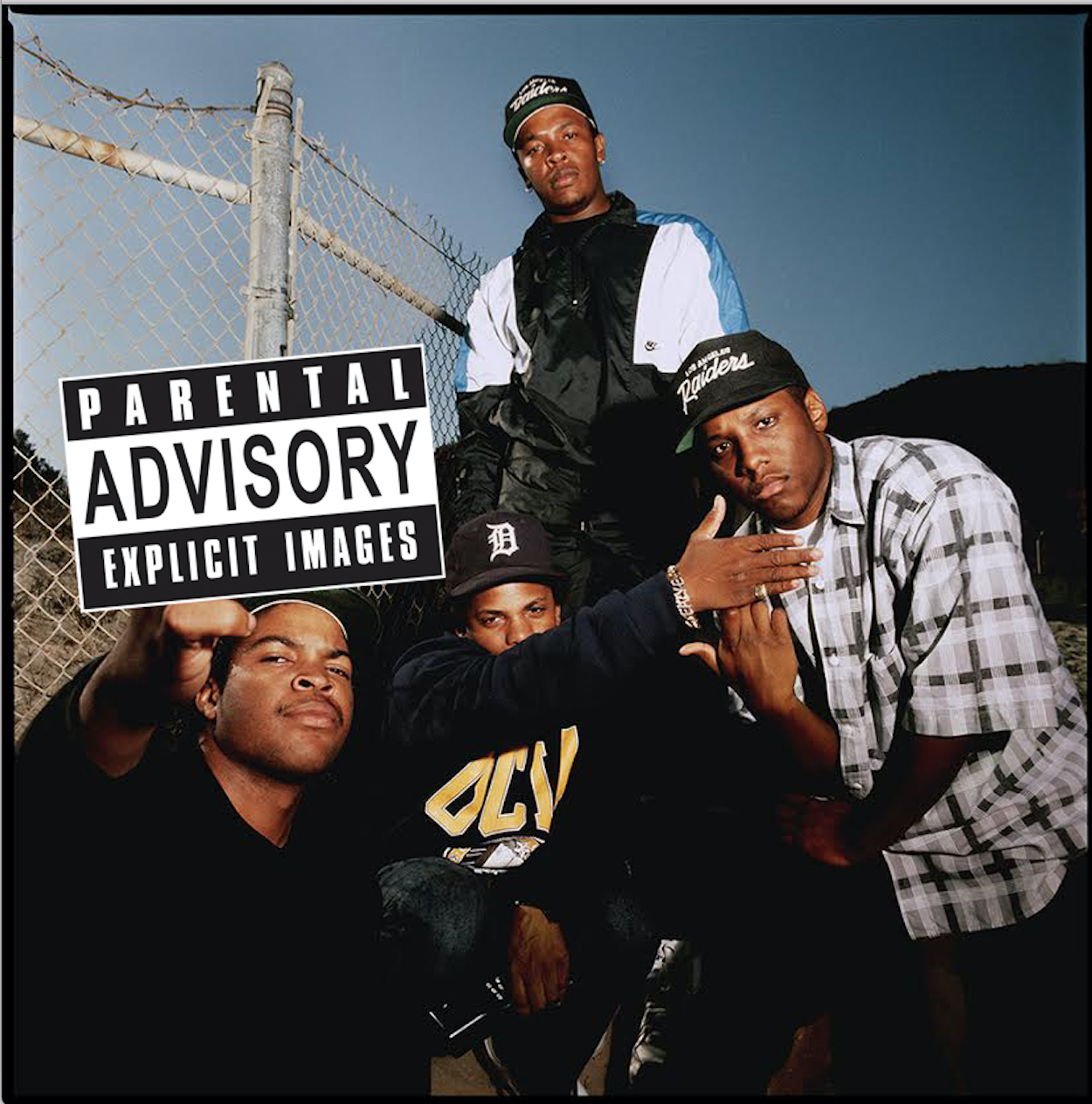 F*** Tha Police: My favorite song out of the three! As the second track, it flows well from the first. In the beginning, the members state their names in the form of a court trial. This song isn't that deep, but it says a TON. This was one of the most "offensive" songs of the time; NWA openly detested the police and exposed the system for being racist. Many think NWA glorified violence, but in this case, they state how they live as though they're going to jail at any moment. This song is another representation of their daily lives; running from police brutality and organized crime.
Notable lyrics: There's so many…but if I must choose one… "…got it bad 'cause I'm brown, I'm not the other color so police think they have the authority to kill a minority…searching for my car, looking for the product, thinking every..is selling narcotics, you'd rather see me in a pen, than me and Lorenzo rollin in a Benz-o"
This is just Ice Cube's part, but the whole song has this same theme. The lyrics are pretty self explanatory, but I'll still describe it if anyone's lost- Basically, the policing system is racism and stereotypical-Cube states how since he's not white, he gets treated brutally by the police due to stereotypes, and like Cube said, many police stop black men with the assumption that they're participating in crime, which is still a common theme in America today. The ideas stated in "F*** tha Police" are quite literally no different than sentiments held by the black community today, mostly because the system has yet to change!!!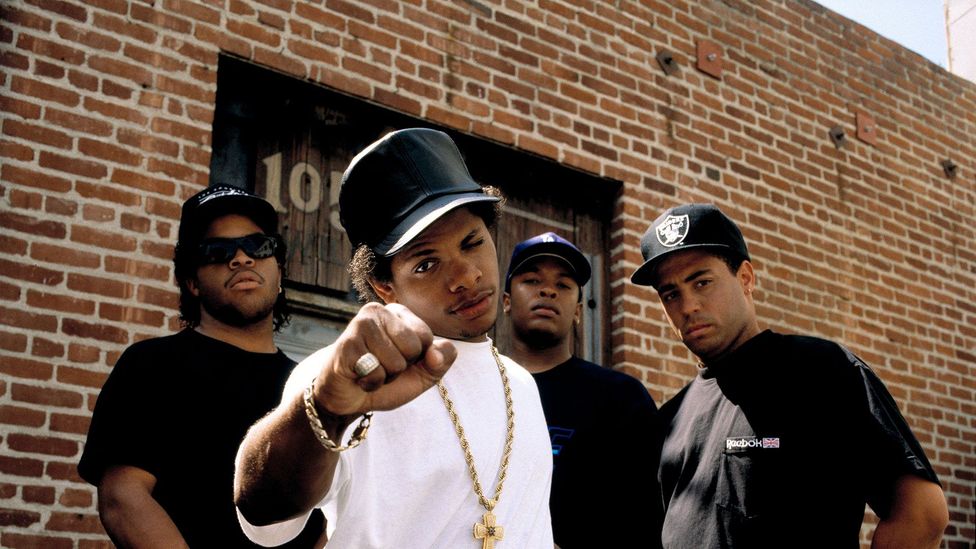 Gangsta Gangsta: NWA further expresses the stereotype that all black men are contributing in crime, especially if they're from a "bad area". They talk about their pasts in Compton and how ever since a young age they've been forced into these negative stereotypes like organized crime. They characterize the typical "Gangsta" that gets portrayed in movies and the media, which is a life many are forced to live in today's society.
Notable lyrics: "Here's a little somethin' bout a … like me, never shoulda been let out the penitentiary…since I was a youth, I smoked weed out, now I'm the…that ya read about, takin a life or two, that's what the…I do, you don't like how I'm livin', well this is a gang, and I'm in it"
Here, Cube talks about being forced into doing drugs and violence at a young age and continuing the cycle of organized crime. NWA doesn't necessarily glorify violence and drug use, but rather exposes how many had no other option than to join gangs to protect themselves from the continuous violence. This is something white people will never understand, and when NWA released these lyrics, some people realized their privilege.
Although some of their songs are definitely offensive…in the sense that they're misogynistic…they've done a lot for the progression of speaking about police brutality and racism despite controversy- they are the epitome of "speak your truth".
Sister Rosetta Tharpe
Sister Rosetta Tharpe was the original Rock N Roll queen, with king Jimi Hendrix taking inspiration from her music. Not only was she a successful black female musician, but she pioneered Rock music during the late 40s, the entirety of the 50s, and into the late 60s. She is a beautiful singer and, of course, a rockstar, so I'm here to share the roots of all rock music.
Success:
In 1947, Sister released her debut album named "Gospel Songs" where she sang popular gospel songs, obviously, to the tune of her guitar. The mix between her comforting voice and sick guitar skills are astounding, regardless of if you're a gospel fan or not. I highly recommend listening to this album at least once in your life. In 1951, she released another album called "Blessed Assurance" featuring popular black gospel group "The Rosettes". Her music evolved into a more electric sound with the use of accordions and organs playing in the background, not to mention her even more impressive riffs alongside the harmonies of The Rosettes. Ugh. Outstanding. In 1956, Tharpe released yet another gospel album labeled "Gospel Train" that had even more of a rock sound than before. In 1960, "Spirituals in Rhythm" was released and was absolutely perfect. Her music completely transformed into another form of rock music, and listening to this album reminds me of Jimi Hendrix every time I hear it. Sister released her self titled in 1960 as well that had a more soft sound to it, but her signature guitar was still present. In 1962, Sister Released another banger, "The Gospel Truth" with an entire rock sound. Her talent is undeniable at this point, because Sister has completely grown with the rock genre despite being labeled "gospel". Now, I'm not a gospel fan by any means, but I rock out to Ms. Tharpe every once and a while…her energy is unmatched. In 1968, "Precious Memories" was released with the most well written riffs I've ever heard from any gospel songs ever. In 1969, Sister released her final album named "Singing In My Soul" where she rounds out her entire career with amazing sound and talent. Since her music spreads across multiple decades, I find it fun to analyze how she found her sound and experimented with her guitar skills. Needless to say, her music molded around mainstream music at the time, and it's important to recognize and celebrate how her music, despite its "gospel" label, stood the test of time over the course of 3 very different decades.
Influence:
Again, most of you may not know her now, but during the time, Sister was known as the "Godmother of rock and roll". Many of our most favorite artists, such as Elvis, Johnny Cash, Chuck Berry, Little Richard, and Jerry Lee Lewis, all openly admired and credited Sister as one of their greatest influences during a time when she was still creating music herself. She appealed to many listeners despite her race and genre, reaching record heights at the time. Her work with a guitar, no matter the type, influenced the entire future of guitar playing. Her consistency with gospel music angered white churchgoers, but her dedication kept her in mainstream music. She was SO ahead of her time, and she did her own thing. I mean, if I was able to sing or play guitar like she could, I wouldn't know what to do with myself. She suddenly died of a stroke while in a recording session in 1973, but her legacy did not end there, of course. Needless to say, Sister also influenced black musicians during and far after her time. In 2018, singer Frank Turner wrote a song about Sister named "Sister Rosetta" that described her influence and what she meant to him, and to be honest, I think that proves just how well her music has stood the test of time. However, Sister was one of the many artists who lost all of her music records in the 2008 Universal Fire. But luckily, her music is still available on all streaming platforms<3
Here are my top 10 favorite Sister songs, and I hope you'll give at least one of them a listen!
10) My Journey to the Sky
9) Shout, Sister, Shout!
8) Pure Religion
7) What He Done For Me
6) I Can Hear the Angels
5) He's the Lily of the Valley
4) I Saw the Light
3) This Train
2) All Over This World
On My Way
Basically, Sister was the black musician to inspire modern day musicians regardless or race, gender, or genre. I love her, and you should too.
Some Honorable Mentions:
SZA
The Weeknd
Beyonce
Odd Future
Bob Marley
Travis Scott
Nas
Tina Turner
Rihanna
Alicia Keys
The 5th Dimension
Willow, Jaden, and Will Smith
Megan Thee Stallion
Billie Holiday
Aretha Franklin