Re: Employee Ranks Every Mellow Mushroom Menu Item
Redacted, revised, reimagined
Almost exactly a year ago (7 November), I released my official review of every single menu item my lovely place of occupation offers. Since I still work at Mellow after two long years, I figured I would re-rank every item and review our newer options. We've actually added quite a few menu items since last year, so it only makes sense that I include every item and exclude the ones we no longer offer. I still don't eat meat, so I will be basing meat based items based on popularity/what my coworkers decide. Just like last year, I will be organizing my rankings based on category as shown on the menu. So, without further ado, here is my revamped review of menu items Mellow Mushroom has to offer.
"Munchies"
11: Buffalo Chicken Dip
I've only heard bad things about the Buffalo Chicken Dip. It looks disgusting too. I would not recommend. Get the Spinach Dip instead. Or Buffalo Wings. Don't settle for less.
10: Magic Mushroom Soup
You know it's going to be a good shift when you walk in the door and you're immediately told "86 mushroom soup". It is truly a rare day if we have mushroom soup in stock; the mushroom soup has some die hard fans and when we're out of soup, they go feral. The amount of phone calls I have to make because we're out of soup is insane, so that's why it gets such a low ranking (even though it's not that bad flavor wise). Hopefully you all understand my pain.
9: Meatball Trio
Never had the meatball trio before, but I'd say it's a hit among customers. Obviously I can't fairly rank this, but it's a little lackluster compared to the rest of the items, a lot less exciting.
8: Hypnotic Hummus
Our old, boring hummus has been replaced by the "Hypnotic Hummus". In our new hummus there are two lumps of product; one has black olives (ew) and the other has oil.
7: Bruschetta
If I wanted the bruschetta mix, I guess I would just get the Avocado Smash. But, the Bruschetta is delectable nonetheless. Kind of boring, but that's alright.
6: Cheese Bread
Another classic. Last year cheese bread was my absolute favorite, but my pallet has evolved since then. Don't get me wrong, our cheese bread is delectable, especially considering its cheap pricing. However, it is certainly at the bottom of the totem pole due to its unoriginality.
5: Avocado Smash
The Avocado Smash is pretty decent; it's kind of like fake guacamole. It's just smashed up avocado, salt, pepper, and lemon juice (I think it's lemon but I'm pretty sure the salad line guys skip that step), so it's not the most exciting thing. The bruschetta mix that comes with it is gas, though. I give it extra points for being two things I like in one.
4: Oven Roasted Wings
We've got a ton of flavors, so the options seem as though you're bound to find something enticing. We've got Mild/Buffalo, Sweet Thai, Teriyaki, Hot, Jerk, BBQ, and Garlic Parmesan. The garlic parm wings are called the "Cloud 9 Wings" and they're a top hit among customers. There is not a shift that goes by where someone doesn't order Cloud 9 Wings. With them being a hit, I have no choice but to rank them high. Points off because the wings are expensive and they always seem to take forever to make (even though it takes maybe 6-8 minutes to cook, not even).
3: Spinach Artichoke Dip
Delicious. 8/10 only because it's a little too much for me. There's so much cheese that it gets overwhelming at times. But, I get that that's the entire point of a good spinach dip. I just know that if I eat it, I won't be able to eat anything else after.
2: Pretzel Bites
A classic. However, as the year has passed, I have grown so sick of the Beer Cheese. Too much oil. Barely tastes like cheese. Not to mention, one single side of Beer Cheese costs $3.32. I used to understand the hype, but these days, it simply is not giving. So, I opt for the salt pretzels instead. But the bites themselves are good nonetheless.
1: Pretzels
10/10 the perfect appetizer. You can also eat pretzels as a meal, so it's very versatile. You can choose from a half (3) or whole (6) order of salt or parmesan. The salt option is best; my coworker Pressley and I typically order 6 salt pretzels every Wednesday night that we close together. I get the Esperanza dressing (which is the best thing Mellow has to offer, by the way), she gets the Beer Cheese.
"Greens"
***Note: We have since removed the Chef salad from our menu. You can technically still order it, but don't tell anyone I told you that.
Bacon Bleu Wedge
Even though it's a hit among customers, it looks absolutely tragic. It's quite literally a wedge of lettuce drenched in bleu cheese with some bacon and tomatoes. I personally wouldn't spend money on this, and might judge you if you order it.
6: The Elevated Cobb
Another salad I can't eat. A cobb salad is typically a standard, universal salad. However, our cobb salad doesn't have egg; what kind of cobb salad doesn't have egg? It probably tastes alright, but I wouldn't know.
5: House Salad
A boring, typical house salad. It's not fun or exciting, so to the middle of the ranking it goes.
4: The Capri
The Capri is an average caprese salad and I find it pretty delicious. Sure, it's a little lackluster, but it's delectable nonetheless.
3: Caesar Salad
Another typical salad. I don't eat caesar, but if I did, this would probably be one of my go-to salads.
2: Greek Salad
Finally we have one of the best salads ever in the world; greek salads always go hard. Our greek salad usually comes with our house Esperanza dressing. As I said before, the Esperanza is the best thing Mellow sells. I would buy a whole tub of it if I could. The greek salad paired with the Esperanza is a godly match.
1: Enlightened Spinach Salad
The Enlightened is the best salad, but by a close margin. Maybe it's because it's a spinach salad and I'm a spinach salad connoisseur, so I'm biased, but I feel like my opinion is well received. It usually comes with your typical balsamic vinaigrette, but the Esperanza is definitely the way to go dressing-wise.
"Stone-Baked Pizzas"
***All pizzas shown below can be made gluten free, only in a size small, though, if that means anything to you.
18: Mighty Meaty
My feelings towards the Mighty Meaty have not changed since last year. Still, to this day, I leave work smelling like this pizza. It makes me shudder with fear every shift without fail.
17: House Special
The House Special is a hot commodity, but I personally do not understand the hype. It's a loaded pizza with almost every topping we offer, so it looks a little overwhelming. And believe me, it is. You have to be a certain type of person to order the House Special; I applaud those who find the House to be a delicacy.
16: Philosopher's Pie
This pizza is definitely a choice…that I wouldn't make. Between the ribeye and the kalamata, I have to pass. Take those two things off and the pizza is back to normal again. But you know, those ingredients are what makes the pizza, so here it lies at spot #16.
15: Wild in Havana
The base of this pizza looks pretty appetizing, but the diced pickles and mayo-mustard drizzle at expo ruins the magic. This is a pretty popular pie though, so it must taste ok.
14: Funky Q. Chicken
The Funky Q. is the more boring version of the Backyard BBQ. The BBQ is all runny and I feel as though it overpowers the flavor of the entire pizza even though there's also cheddar and caramelized onions in the mix. If you like BBQ, I'd go for the Backyard instead.
13: Pacific Rim
If you like Hawaiian pizza, this pie's for you. It's also got caramelized onions, jalapeños, and bacon, so it's like a loaded Hawaiian. It looks decent, but I understand that the pineapple on pizza debate can get pretty heated, so it lands itself at the bottom of my lift.
12: Maui Wowie
The difference between the Maui Wowie and the Pacific Rim is the Maui Wowie has pesto, banana peppers, and jerk chicken. It sounds a lot more appetizing than the Pacific Rim, so if I were to eat pineapple on pizza, the Maui Wowie would be my first choice.
11: Buffalo Chicken
The Buffalo Chicken is probably one of the most popular pizzas at Mellow. However, it has a lower ranking because the ranch/bleu cheese swirl that goes on top gets very runny and can make a mess.
10: Caesar Pizza
This pizza is very self explanatory; it is quite literally a caesar salad on a pizza. Caesar salad is good, so I don't blame people who order this pizza. But if I wanted salad, I would just get one. I guess it's just the lettuce that throws me off.
9: Backyard BBQ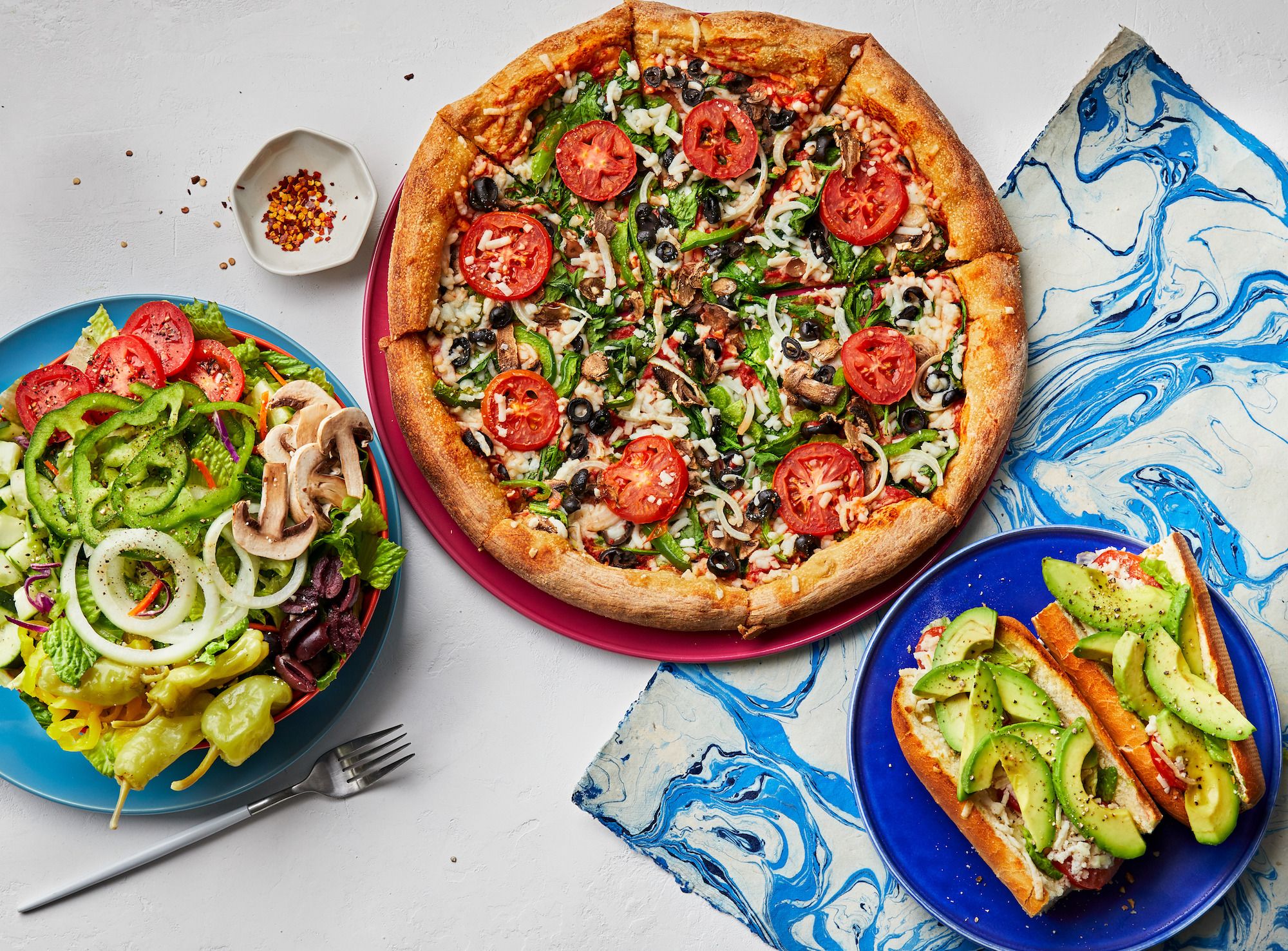 If I ate meat, this would be the first pizza I would try. It's somewhat similar to your typical BBQ pizza, but it has pork instead of chicken, making it a true BBQ dish. It smells delightful and is topped with some poblano and peppadew peppers to spice things up.
8: Great White
Not too sure why I ranked the Great White so high last year because there's so many better options. I'm not the biggest fan of sundried tomatoes and onion, but this pizza is still a really solid choice.
7: Veg Out
This veggie pizza is kind of boring compared to others that I've tried from other restaurants I've been to (traitorous, I know). It also has most of the vegetables I don't like. I'm not a fan of black olives, tomatoes, or green peppers, and that's half of the pizza. I'd rather just build my own veggie pie.
6: Mega Veggie
The Mega Veggie is like the House Special but with vegetables. It's pretty good, but it's just a little too much for me. I'm not a huge broccoli fan, and many order the Mega Veggie because of a craving for broccoli on pizza, so I feel like the Mega Veggie was not made for me. But it ranks higher than the Veg Out because it has more veggies that I do enjoy (I'm a BIG banana pepper gal).
5: Thai Dye Pie
Remember how I said I would eat the Backyard BBQ first if I ever ate meat again? Well, I take it back. Everytime I see this pizza come fresh out of the oven I shed a tear of joy. It smells DELICIOUS. The cucumbers mixed with the thai chili and curry chicken is one of the best things I have ever smelled in my life. Without the chicken it's good too (even though it has tomatoes!), but I am tempted to actually eat a slice with the chicken on it…
4: Loaded Potato
Another meat pizza that makes the top 5! This pizza is so good; the spicy ranch and sour cream combo is to die for. It has bacon on it, but as I said last year, it's nothing I can't just pick off.
3: Kosmic Karma
This is a perfect pizza. It (almost) always looks beautiful. This pizza is one of the only ways I will actually eat tomatoes. If you like pesto, this pizza is for you.
2: Holy Shiitake
This pizza is a godsend. Between the oil and garlic base and mix of mushrooms, this pizza takes the cake. It is very rich, so I can usually only do one slice, but it reigns supreme nonetheless. Life hack: turn it into a calzone.
1: Magical Mystery Tour
The MMT pizza is probably the best pizza I've ever had, and that includes non-Mellow related pizza joints. Jalapeños, feta, mushrooms, spinach…what more could you ask for?
Conclusion
I will not be diving any further into the menu; this article is already 2000 words. I'm sorry to those who were hoping for an exact review like I did last year, but it must come to an end. This is everything that matters on the menu anyways; everything else is lackluster in comparison to the first portion of the menu. Take my review with a grain of salt, but as we all know, I'm always right anyways.