2023 Oscars Fashion Review
A review of the 2023 Oscar's red carpet fashion.
Each year, the Oscars is a mass-viewed awards ceremony that recognizes the year's best cinematic works. This year, A24's Everything Everywhere All At Once won a whopping total of seven awards, after being nominated for eleven. Cast members including Michelle Yeoh and Ke Huy Quan went home with Oscars, but also made a stunning and sophisticated appearance on the red carpet. The red carpet is one of the Oscar's most compelling events, taking place multiple hours before the show, complete with celebrity interviews and reviews of their looks in the days following the ceremony. In this article, we step away from our advice and opinions surrounding pop culture and academics, and offer up our opinions regarding this year's red carpet fashion.
Florence Pugh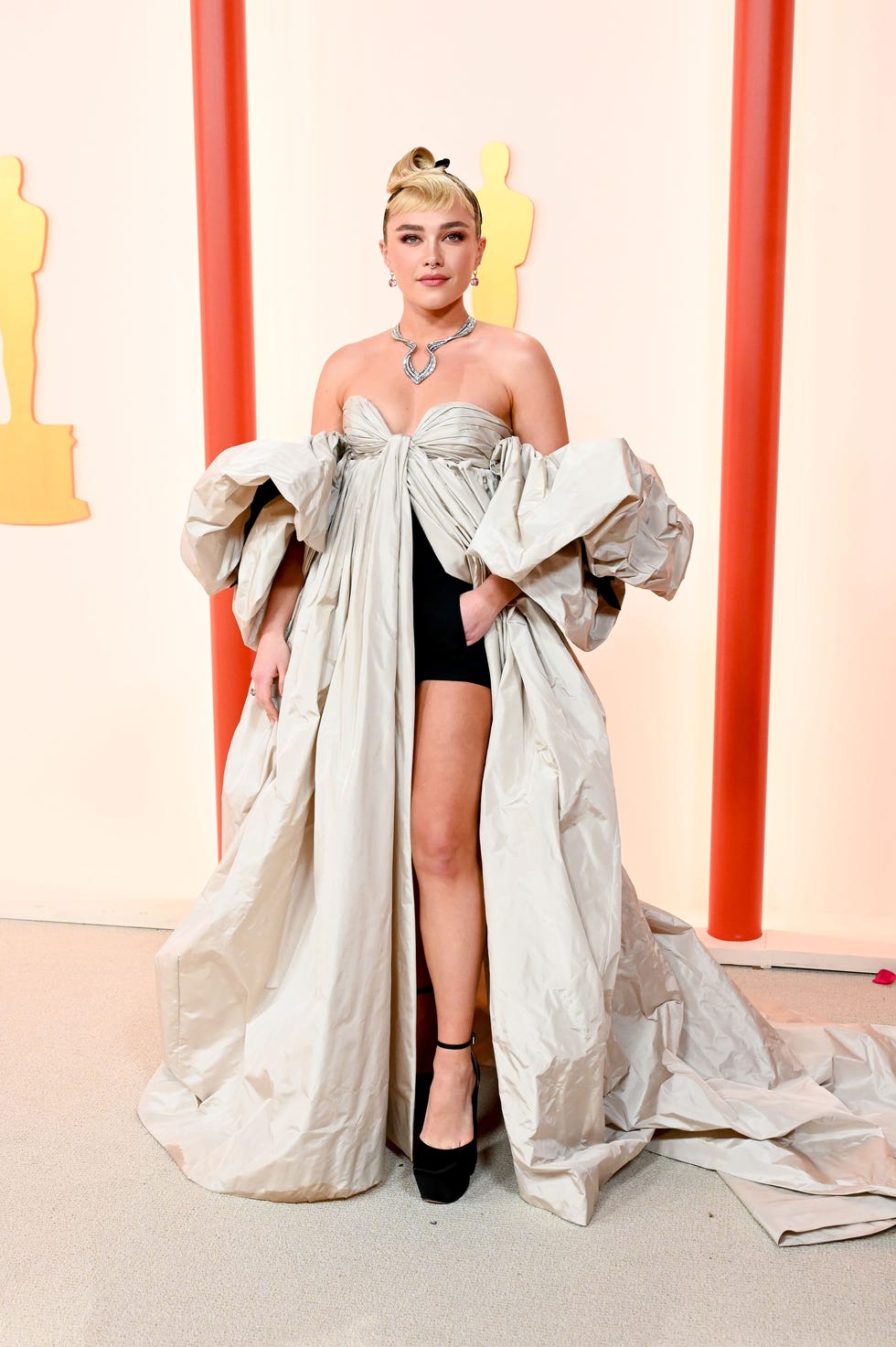 Florence Pugh has risen greatly in fame over the last couple of years, notably for her compelling acting and her famous dramatic frown. She made her way onto the red carpet in a Valentino ensemble.
Sadie: I honestly love this dress and look so much. She looks so cute and girly and sophisticated. The mary janes are so cute for the red carpet I just love it. I'm really confused by the upside down ponytail though. 9/10
Ella: While I saw some people describing this as a duvet bedsheet online, I love this look. I think that the combination of the LBD & textured look of the outer layer made for a really interesting outfit. I absolutely love her heels and think they added the perfect touch. 9/10.
Michelle Yeoh
Recently the first Asian actress to receive an Academy Award for Best Actress, Yeoh has broken barriers and made history. Yeoh attended the Oscars in Dior Haute Couture.
Sadie: She is so chic and amazing I'm so happy she won and she looks gorgeous. However, I hate the mesh neckline of this dress. It feels unfinished? She looks amazing in white so I'll let it slide but the dress needs another week in the atelier. 6.5/10
Ella: I'm really happy with the Academy's choice regarding Michelle's win. However, I'm not 100% happy with the choice of the designer. She looks absolutely gorgeous in white and the jewelry makes her look very elegant. The feathery details of the dress gives off a swan-like & sophisticated impression, suitable for a black tie event. Unfortunately, I don't see the vision with the mesh neckline. I think that her hairstyle added a great detail to the look. 7/10.
Lady Gaga
Lady Gaga has become a pop culture icon, featured at this year's Oscars ceremony for her original song in Top Gun: Maverick and ended up giving a surprise performance at the show. She walked the red carpet in Atelier Versace.
Sadie: It's fine. 5/10.
Ella: I think that this is a very Lady Gaga look. The silhouette is flattering and the black makes for an elegant ensemble. The skirt feels a little awkward paired with the mesh top. I'm not in love but it makes enough of a statement. 6/10.
Salma Hayek Pinault 
Salma Hayek Pinault is a longtime actress who has also worked as a film producer, model, and singer. She walked the carpet in a sparkly Gucci ensemble.
Sadie: Catching Fire Windsor prom chic. 0/10.
Ella: If we were in Panem, the Capitol designers definitely would've missed with this look. The sparkly fringe feels tacky and the rustic color catches the eye in the wrong way. Also, the halter top just doesn't work with the rest of the dress. I wish I could love it but I'd swipe left in a heartbeat on this dress. 0/10.
Ke Huy Quan
Originally a child actor who starred in The Goonies & Indiana Jones, Ke Huy Quan has recently returned to acting with a win for Best Supporting Actor for his role in Everything Everywhere All At Once. He made his comeback to the carpet in Armani Prive.
Sadie: Loved his performance and so happy he won. I don't really know what to say about the suit, it's basic, but nice and I like the broaches. 6/10
Ella: I get that these events are black tie and that these tuxedos are typical and common, but I'm just so tired of them. Everyone always looks sophisticated in them and I respect their dependability but I wish we would steer away from basic tuxedos. Anyways, he looks great, I'm happy he won, and the David Yurman jewelry adds something a bit more interesting to the tuxedo. 6/10.
Emily Blunt
A British actress who has made her mark on worldwide cinema, Blunt has also worked as a film producer and was one of the highest paid actresses in 2020. She walked the carpet in Valentino.
Sadie: So many people sent me this telling me this looked like me/the outfit reminded them of my semi formal dress. Naturally, I love. 7.5/10
Ella: Emily looks so gorgeous in this dress and I think that a basic dress like this is perfect for an event like the Oscars. Although one could argue this is basically the equivalent to a tuxedo, there's enough variety in dresses each year that this is simply elegant. It allows for a focus on the accessories & I love it. 7/10.
Lenny Kravitz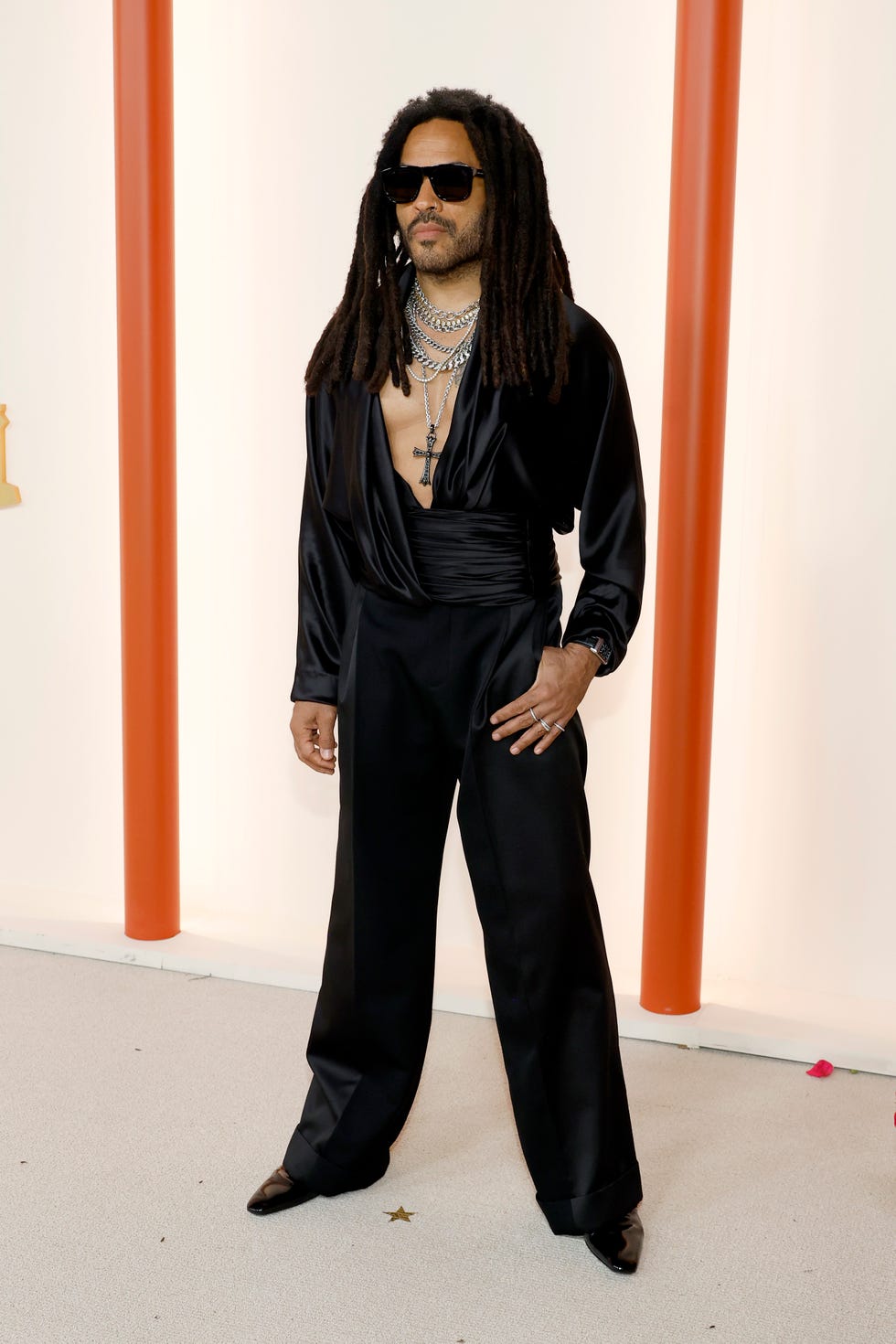 Lenny Kravitz is known for both his work as a singer-songwriter and as an actor. He recently performed at the Oscars during the remembrance memorial for influential members of the film industry. He walked the carpet in Saint Laurent.
Sadie: Jack Sparrow core. 7/10.
Ella:  I appreciate this look because it adds a dimension to a typical tuxedo which as I've said, often is a fatal flaw to red carpet fashion. I like the reinvention of the tuxedo but I would agree it's reminding me of Jack Sparrow. You win some, you lose some. 6/10.
Halle Berry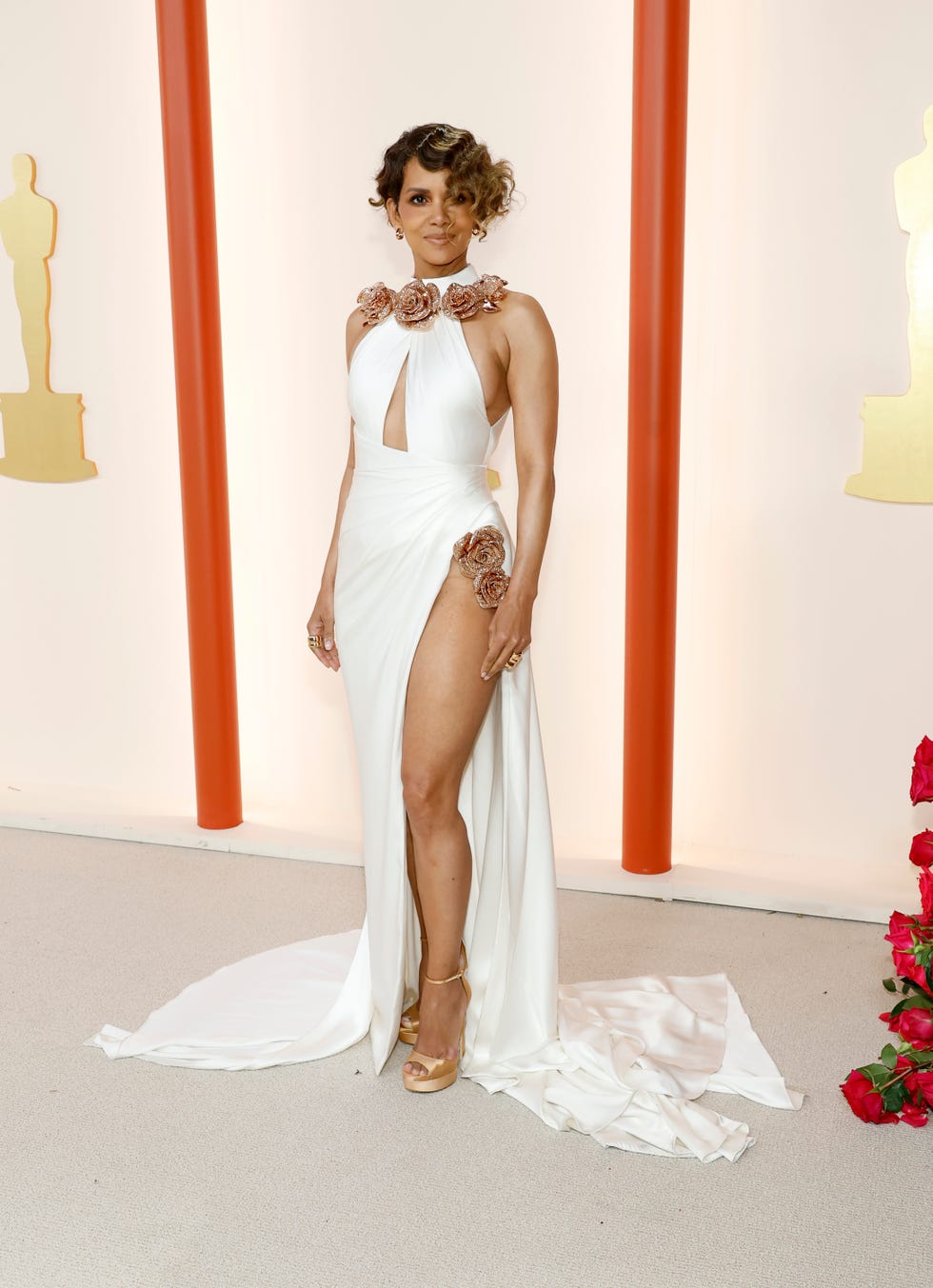 Halle Berry was the first African-American woman to win the Academy Award for Best Actress back in 2002. In 2023, she presented Michelle Yeoh the Oscar for Best Actress. She walked the carpet in Tamara Ralph.
Sadie: This would be so gooddd if not for the bodice – I love this color and the material, it looks so majestic and ethereal on her, but the structure of the bodice reminds me of 2 fashion fiascos: neon triangl bikinis and The Amazon Corset. But also she looks like a Tiffany box. 6.5/10
Ella: Halle looks absolutely stunning in this ensemble and I love the detail of the roses. I would agree that I'm not the biggest fan of halter tops, and that the dress would be better without the halter, although the roses alongside her neckline add a highlight to her face & so for that reason I find myself conflicted. 7/10.
Andrew Garfield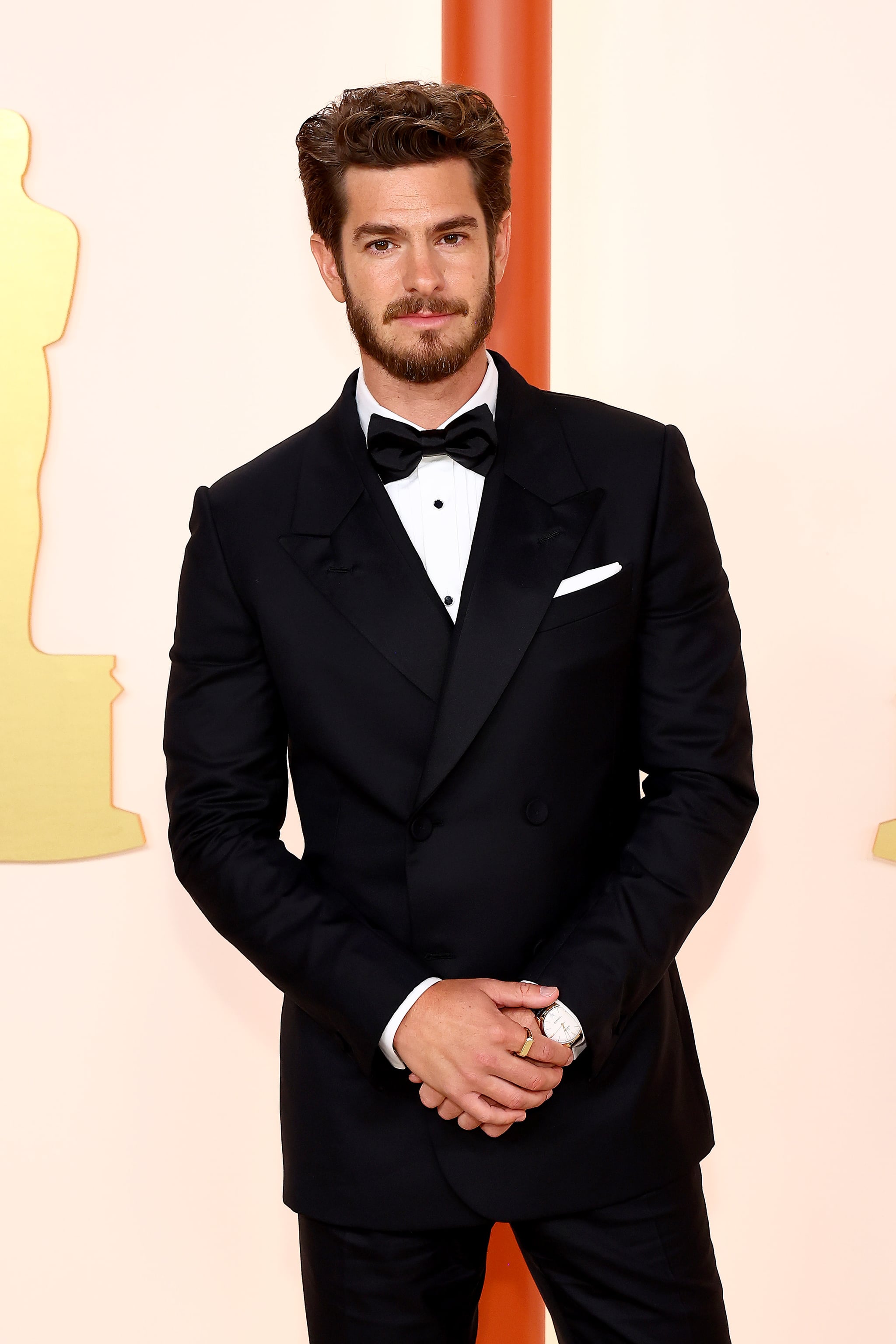 Andrew Garfield is a British-American actor renowned for his 2010's rendition of Spiderman as well as other notable films. He also is a renowned playwright actor and won a Tony for his performance in Angels in America. He wore Fendi on the carpet.
Sadie: Very bored but he looks great. 4/10?
Ella: Yet again, the tuxedo flaw comes back again and again. Andrew looks great though, so I guess I don't really know how I feel about basic tuxedos. Overall, I wish designers would agree to switch it up a little every year. 4/10…
Michelle Williams 
Williams recently starred in  Stephen Spielberg's The Fablemens and is known for her depiction of tragedy & emotions. She was nominated for Best Actress this year and walked the carpet in Chanel.
Sadie: I really like this look for the red carpet. Chanel is spotty on that front, so I'm glad to see this look, it's very cute. I don't love the sequins. 6.5/10
Ella: Michelle looks so pretty and her performance in The Fablemens was top-tier. I love the veil-like material and I think she looks elegant and fit for the red carpet. 8/10.
Elizabeth Banks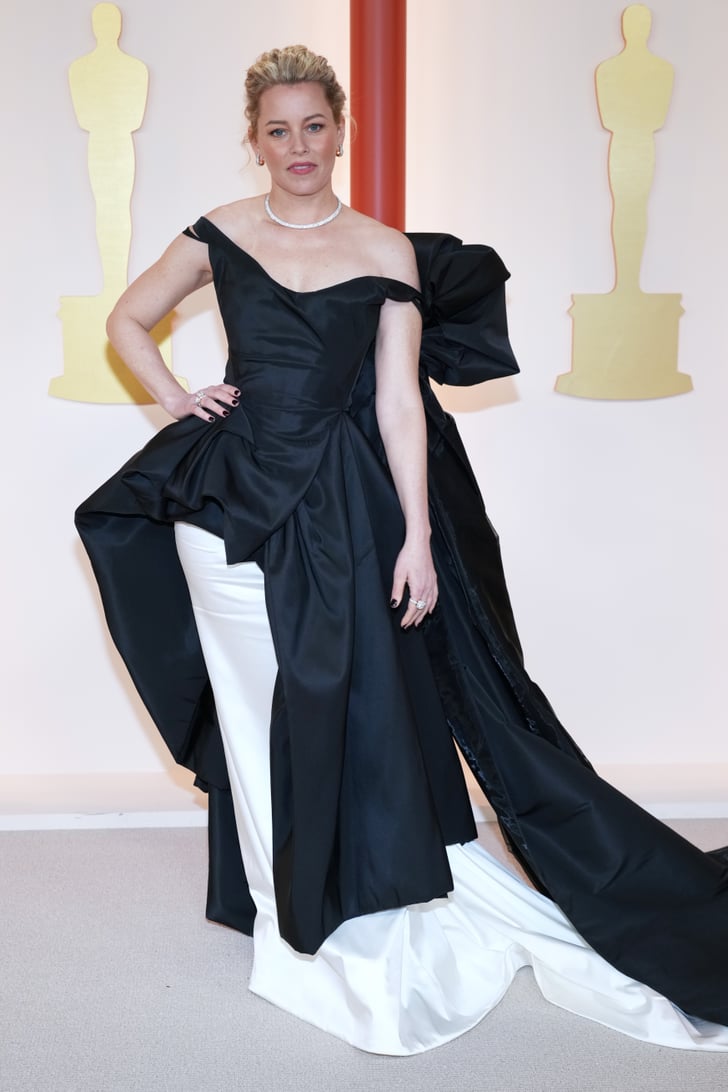 Another well-known Hollywood actress, Banks has made her mark on plenty of childhoods, having starred in the Pitch Perfect and the Hunger Games trilogies. She walked the carpet in Vivienne Westwood.
Sadie:  I really like the idea of this dress, though it kind of reads as an 80s prom dress because of the mermaid fit. I also wish her hair was down. Missed potential here. 5/10
Ella: I do agree that the look would be better with a different hairstyle. Elizabeth Banks honestly can rock anything she wears and I love the black & white aspect of the dress. I also would agree it's sort've too poofy for it's own good, but nonetheless I love the train and the dress overall. 7/10.
Paul Mescal 
Mescal has recently rose to notoriety by starring alongside Daisy Edgar-Jones in Normal People, recently being engaged to Phoebe Bridgers, and starring in the Academy-nominated film Aftersun. He walked the carpet in Gucci.
Sadie: I really like this, it's such a creative and simple tuxedo take. Maybe even a 10/10??
Ella: Since we've already discussed how I feel about traditional black tuxedos, I honestly love Paul's look. This is what I mean by simple elevation. 10/10 for the breakaway from black tuxedos and pulling off this look flawlessly.
Phoebe Waller-Bridge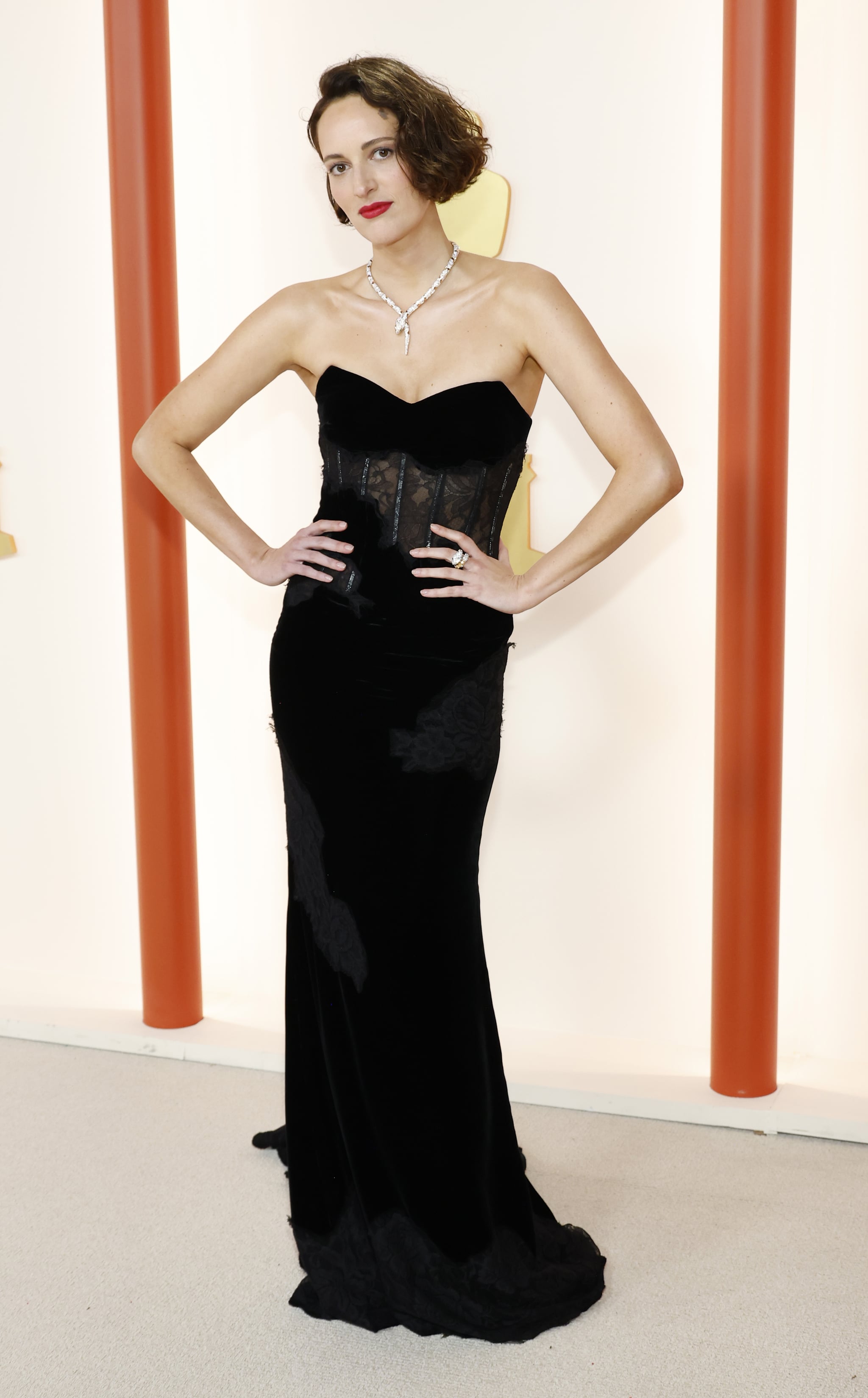 Waller-Bridge is known for creating and starring in "the one-woman show" Fleabag. The British actress walked the carpet in Dolce and Gabbana.
Sadie: This look feels very unorganized. 4/10
Ella: Honestly, I love it. It's very true to Phoebe's vibe and the simplicity is elegant and neither overwhelming or underwhelming. However, I am tired of corset-type detailing these days, so it's a 7/10.
Stephanie Hsu
Stephanie Hsu recently starred in the acclaimed film Everything Everywhere All At Once. She attended NYU Tisch & began her career on Broadway. Hsu walked the carpet in Valentino.
Sadie: She looks so cute. 7/10.
Ella: I love pink and I love this dress. The silhouette is elegant and fun, but the color seems kind've awkward, like it's almost in between 2 different colors. Either way, she looks gorgeous.
Lesley Paterson
Lesley Paterson is a Scottish film producer who attended the 2023 Oscars for her work on All Quiet on the Western Front, which depicted war through a teenager's eyes. She walked the carpet in an unnamed designer.
Sadie:  I don't know who this is but her dress was so interesting we had to include. I honestly love the bottom half so much I give it a 10/10, but the top half is teetering on 2/10, so I'll average a 6/10. We also couldn't find the designer, but it's honestly my favorite thing when celebrities wear stuff off the rack to red carpets, if that's the case. It really shows how they would style themselves.
Ella: The bottom half of the dress combined with her bag and the shoes is borderline perfection because it's just so much fun. The lime green takes away from this almost immediately. In fact, it makes me sad. 5/10 since half of it is a 10/10 and the other half is a 0/10.
Sofia Carson 
Sofia Carson is an actress and singer. She first rose to fame as a part of Disney Channel and has since worked to grow her music career. She walked the carpet in Giambattista Valli Haute Couture.
Sadie: This is so pretty and graceful. I love seeing white gowns on the red carpet, they don't have to be just for weddings. 7/10
Ella: In love with this dress. She looks so pretty and elegant and it's the epitome of the red carpet. 8/10, she looks so gorgeous.
Justin Hurwitz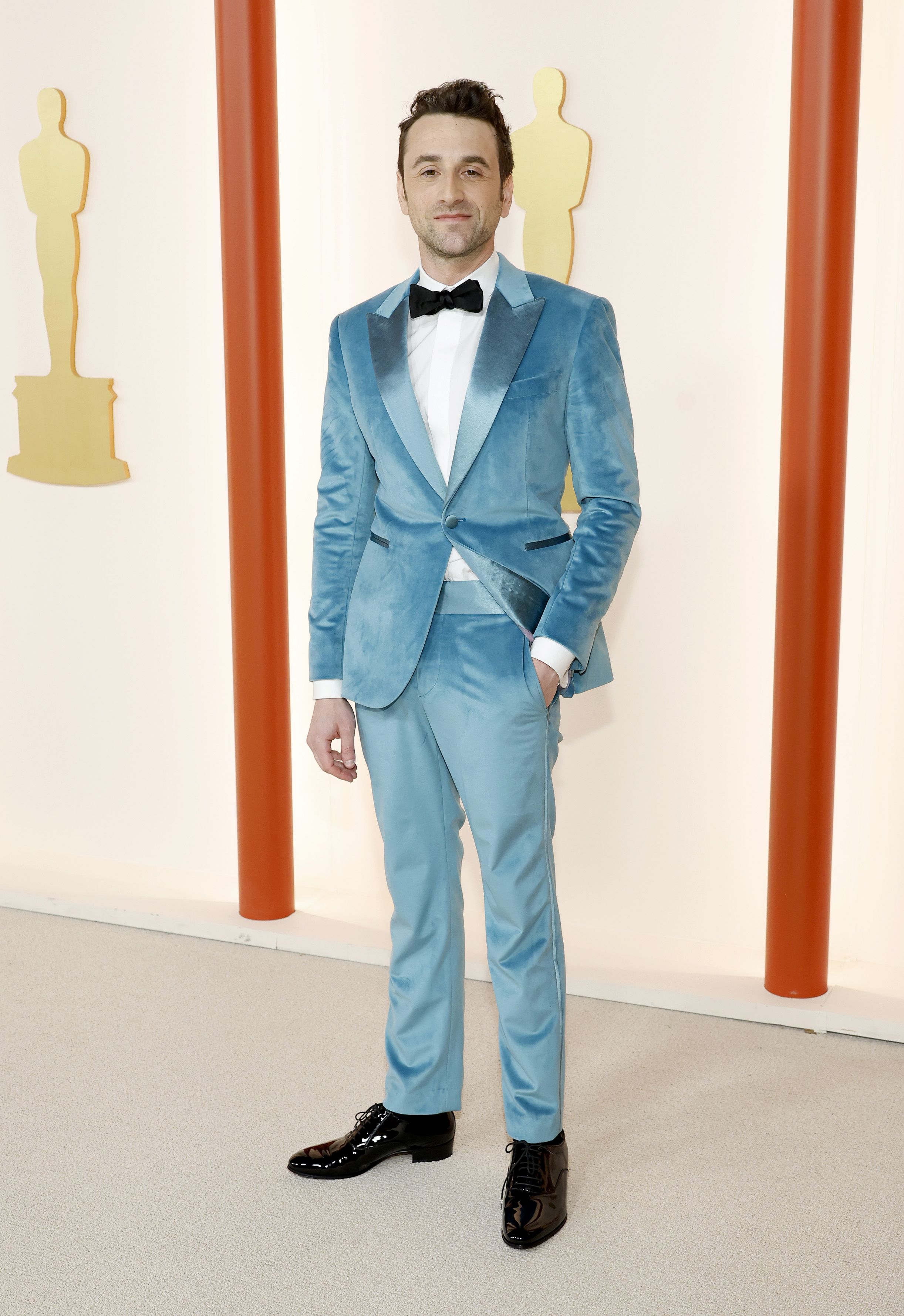 Justin Hurwitz is known for his musical accolades alongside director and former Harvard classmate Damien Chazelle in the motion pictures La La Land and Babylon, having composed both soundtracks. He walked the carpet in an unnamed designer.
Sadie: Well it's not a black suit. But I still don't like it. 2/10
Ella: Again, I have to give points for steering away from the black tuxedo nonsense. The velvet is confusing though and the blue is very bright. 4/10 for creativity.
Rihanna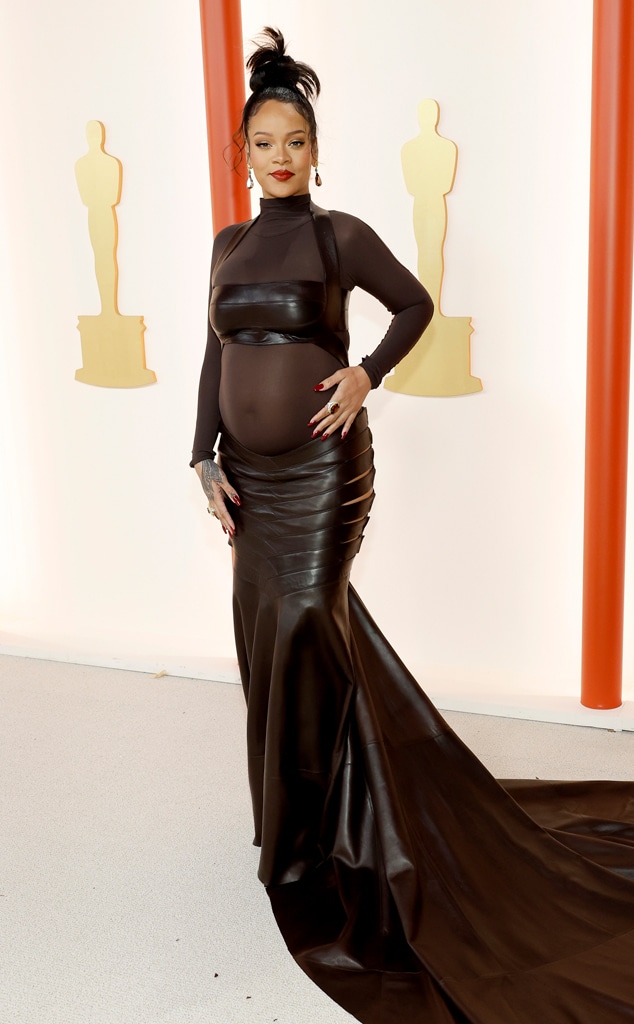 Recently returning to performing with her Super Bowl halftime show, Rihanna is an icon of the music industry. She was born & raised in Barbados and owns her own makeup brand, Fenty Beauty. She walked the carpet in Alaia.
Sadie: I loveeeee Alaia and this looks so flattering on her and she's literally pregnant. Suck a good sleek dress. 8/10
Ella: Rihanna always looks good, I'm convinced it's impossible for her to not look good. I love this dress on her and it 100% matches her personal style. 8/10.
"
Harry Shum Jr. was definitely best dressed this year."
— Emma Hsu
Let us know your opinions and favorite looks in the comments! Happy awards season!
Leave a Comment