If you do not know what the Birdcage is, that's weird especially since you go to Magnet; it is our official student section name. There are many other might I say iconic student sections in our area, such as the Wando Chophouse, the Lucy Beckham Jungle, and the Oceanside Shark Tank, however, in my completely unbiased opinion, the Birdcage reigns supreme.
One thing I love about AMHS is our school spirit and the amazing turnouts to all of our sports games. Student section themes are vital to getting students engaged in the game and enhancing school spirit. 
Following the theme is one of the most important and unspoken rules of any student section. Here at Magnet, we have a tradition of doing certain themes for certain games. Homecoming is ALWAYS ALWAYS ALWAYS blackout, no exception. And usually, in October, we do a pink-out night for Breast Cancer Awareness Month. Although we tend to have the same themes every year, I still have some of my personal favorites from participating in these themes in the Birdcage or in other schools' student sections, like the Wando Chophouse. Remember… these are MYYYY PERSONAL OPINIONS, so it is okay if we think differently. 
10. Camo
This theme is absolutely the WORST one. Personally, I do not own any camo attire and find myself having to borrow from my friends when this is the theme. I don't think we have ever done this theme for any game at AMHS, thankfully. While it does fit for other schools that may be in "the middle of nowhere South Carolina", for the Birdcage mmmm No thanks. So can we please stick to never doing this theme? 
9. Lifeguard/Baywatch
This is a classic in the Birdcage, however, I still struggle to dress up for this, even now as a Senior. It has been done every year I have been at AMHS, and I still never love the outfit I come up with. Unpopular Opinion: I feel like this theme is overused, sorry about it. In past years I have worn just a red top and white shorts, maybe even a hat with it. Personally, I do not get as involved in this theme because I don't own any Lifeguard materials. I was never the girl in middle school who had the classic lifeguard red sweatshirt (I know some of y'all did but obviously no judgment). So this theme is just meh to me. 
8. Jersey
I have never understood this theme. Although it is a pretty easy theme for everyone to follow, it does not make sense to me. Why are we repping professional or college team's jerseys while we are cheering on our high school sports teams? I don't know. I do obviously participate in this theme (you can usually catch me in my Travis Kelce jersey); however, I wish we would not do this theme for student sections. Unpopular opinion: I do think this is a good Spirit Week theme since it is so simplistic and easy for students to participate in.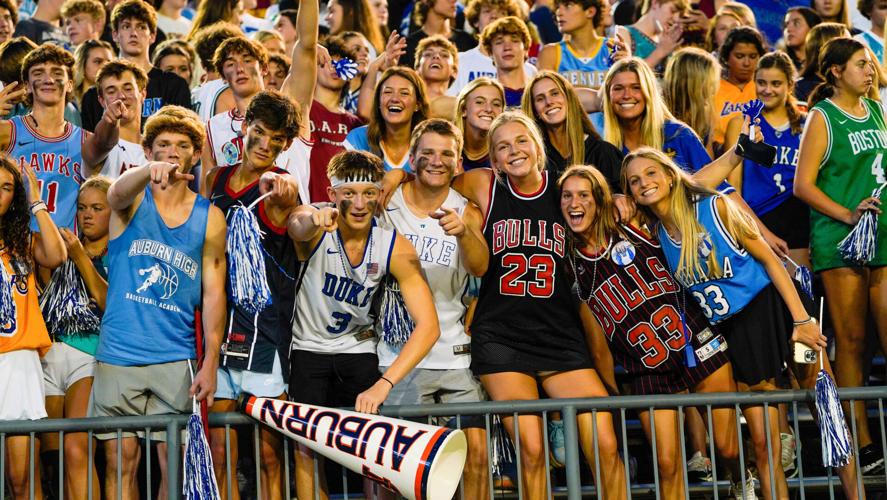 7. Hawaiian
Hawaiian is not that complicated and usually has a lot of participation. This also has a lot of creativity. You could wear a bathing suit top with a Hawaiian shirt, dress as a tourist, and rock the socks and Birkenstocks (which I see some of y'all in the hallways wearing on the daily so no excuses). I do not have any personal dislike toward this theme, it is just not one of my favorites which is why it's ranked #7.
6. USA
USA! USA! USA! I loveee this theme. People get so creative with their outfits. My favorite is when people dress up as a president or as Uncle Sam. Or when people wear the Nicki Minaj USA flag on their back. HILARIOUS!!! I think this would be a great new theme for us to do in the Birdcage (whoever decides the themes for games I hope you are reading this article).
5. School Colors (Grades)
This theme is just mid to me. I get the concept of separating each grade and making them all wear the same color but I feel like the freshman always get the sucky color. I know weird im showing sympathy for the freshman, but whatever. For example, if we ever did this theme, Seniors would probably get green, Juniors get black, sophomores white, and Freshmen grey. Grey can be one of our school colors but the main 3 are green black and white, so like freshmen obviously get the lesser color. I do think this looks cool in pictures to have each stripe of color from where the different grades stand in order. But I don't know I feel like we could go without doing this theme.
@wandohighschool Instagram
4. Pink Out
This theme is so fun and I love that we always do it in October for Breast Cancer Appreciation Month. I also have a personal bias because fun fact my favorite color is pink. I have everything pink: pink laptop case, pink pencil case, pink binders, pink water bottle, pink nails on most of the time (SNS only), and hopefully one day a pink Jeep Wrangler. So if you can't tell I LOVE pink so this theme is obviously one of my favorites. I am definitely looking forward to purchasing a pink wig for our Pink Out game later this football season.
@amhsstuco instagram
3. Neon/Rave
I love this theme but more importantly, I love how we do it in the birdcage. We take it beyond the Construction vest over normal clothes and wear actual bright-colored clothes. Some people in past years have taken it so far to wear a neon wig, which I loveeeee. I love putting neon paint on my body or writing something in paint on my arms and legs. The student section also is so bright under the lights and always looks amazing in group pictures. So this is definitely a theme I am never mad about participating in every year. A true Birdcage classic.
@amhs.football Instagram
2. White Out
This was our most recent theme for our first football game of the 2023 season. For the most part, everyone participated in this theme, so that's good. White Out is a pretty simple theme to follow, and if you don't have a white shirt, you can just go to Walmart and get one for a few bucks. To be honest, if it is a color-out theme and you don't own that color, make a quick trip to Walmart on the way home or on the way to the game.  Anyway, I LOVEEE this theme. As you can tell I love the one-color themes, and white out is one of the best.
@amhsclass2024 Instagram
1. Black Out
This is the absolute best theme ever. And Black Out in the birdcage means it's HOMECOMING!!! This also means that it was just spirit week so school spirit is high and students are hyped from a fun week. I look forward to the homecoming game every year, and obviously, it is usually the game with the most students at it so we get LOUD! I truly don't think there is a better theme or vibe in the Birdcage. I expect all of y'all to be dressed out and loud for the homecoming game in the Birdcage, NO EXCUSES. PS I told my coach I won't be at my tournament on the Friday of the homecoming, so seriously no excuses.
@amhsbirdcage Instagram
I love some of our iconic Birdcage themes, but some not so much. We should keep some of the old themes but maybe start adding some new themes to our rotation. But seriously please no camo theme I beg you Student Council.