International Films to Watch
Start your 2023 Movie Bucket List…..
If you're not watching international films in different languages, you are missing out on TONS of incredible artwork. We tend to focus on cinema in English, however there is so much art around the world to be appreciated. International film can be intimidating at first due to the plethora of options and subgenres, but I have a brief set of recommendations to get you started. 
If you're in the mood for love… watch In the Mood For Love directed by Wong Kar-wai (see what I did there…). This film is spectacularly beautiful and each scene is memorable. The film is set in 60s Hong Kong and follows two lonely neighbors who form connections through every encounter. Their connection is strengthened when they realize their spouses are both cheating on them. It's definitely a slow burn, which is why I love it, but the tension between the two is palpable in each scene. Interestingly, the film was initially not even supposed to be a romance, but rather a love letter to Hong Kong diner culture, which there are still clues of in the couple's diner dates. Wong Kar-wai is a master of cinematography and the mood of the film captivates you through its use of color, pace, and sound. Watch this immediately. 
If you want revolutionary cinematography …. The Color of Pomegranates has stunning visuals that will leave you very intrigued. The film introduces itself as a look into the mind of Armenian poet Sayat Nova (also its alternate title), which explains the dreamlike sequences. The story is entirely told through images with almost no dialogue, excluding some narration. Released in 1969, it cut through the realism that dominated the period. Armenian culture shines through and director, Sergei Parajanov, brings the imagery Sayat Nova uses in his poems to life. This film was so revolutionary that it was not even shown abroad for over a decade due to criticism. The entire movie is just so interesting to view and will transport you into a different reality. 
About Elly, directed by Asghar Farhadi, becomes a mystery thriller in a way that you never expect. A group of friends travel to the Caspian Sea for the weekend and Sepideh invites Elly, her son's kindergarten teacher, hoping to matchmake her with a friend whose marriage has recently ended. However, things quickly take a turn when Elly and one of the children go missing. Accusations fly and questions as to what happened and why remain unanswered. Not only is the film intriguing and captivating, but it is also a commentary on modern-day Iranian life and the dangers that can quickly escalate as a result.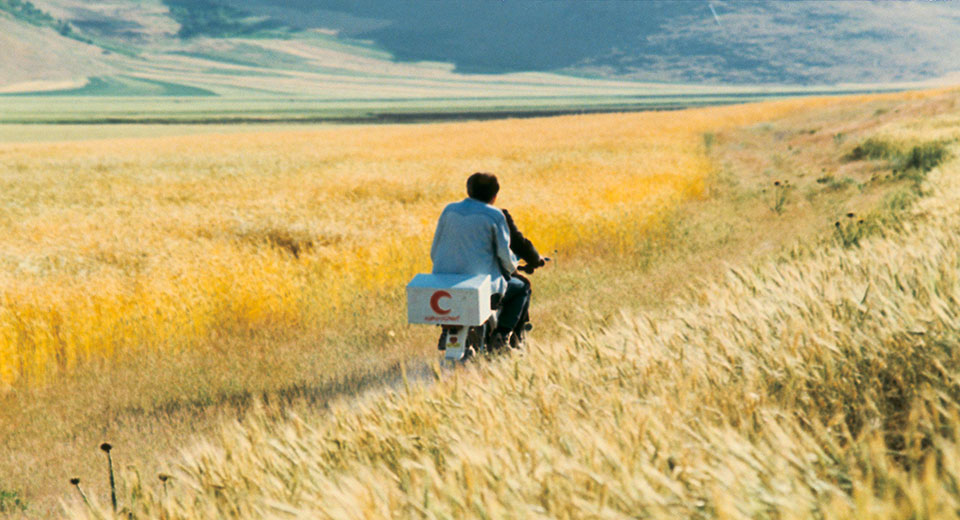 If you are looking for drama, look no further than the late Iranian director, Abbas Kiarostami. He is considered the head of Iranian new-wave cinema and his work has inspired directors worldwide. Although not as well known as his other films, The Wind Will Carry Us is a personal favorite. The film is centered around a big-city director from Tehran who travels to a rural Kurdish village in hopes of capturing a funeral rite after learning of a dying woman there. However, as the director waits for her to die, he grows impatient and struggles to adapt to village lifestyle. It is definitely not an action-packed movie, Kiarostami movies tend to be this way; some claim they are slow, however, if you are craving something different and to be immersed in a film, this is a great option. Additionally, as you can tell by the stills above, the ambiance is beautiful.
Korean film, Parasite, blew up upon its release and is definitely a must-watch if you haven't seen it yet. The film follows two families in Seoul, the Kims who live in poverty and the vastly wealthy Parks. As the Kims slowly infiltrate the Park household through a series of scams, the film delves into a haunting tale of the dangers of class inequality in a capitalist society that causes inter-violence within lower classes, rather than focusing on their common enemy. This film by Bong Joon-ho is incredible and was the first non-English film to win Best Picture at the Oscars. Fair warning, however, the final scene is quite gruesome.
Another international movie that rightfully garnered international accolades, Roma is an absolute must-watch. Roma follows Cleo, a domestic worker in Mexico City during the 1970s who cares for four middle-class children after their father abandons the family for his mistress. Cleo raises the children, even as her own life is struck with both personal and outside events, such as the political turmoil during the 60s and 70s in Mexico. Director Alfonso Cuarón loosely bases the story on the woman who raised him as a child and the film is an ode to her. The story itself is incredibly beautiful, as well as the cinematography through the dramatic black and white style.
This list is very, very small when compared to the vast array of options to see. There are still so many movies on my personal watch list and perhaps I will make a part 2 as I check off my 2023 movie bucket list.
View Comments (1)