Books I've Read Recently as Songs
Two of my favorite things to talk about in one article- music and books.
I've been reading a ton of books recently, and as you can probably tell, I listen to a lot of music. I've read 7 books alone in March and I'm obsessed with all of them. So, consider this a joint book/song review of 4 of the books (part 2 next issue?).
It Ends With Us: Colleen Hoover and "right where you left me"/"Clean": Taylor Swift
I'm a firm believer that Taylor Swift has a song that matches every possible situation and emotion that one could have. In my mind, It Ends With Us reflects themes in many of Swift's songs. However, both "right where you left me" from Evermore and "Clean" from 1989 represent different aspects of the book so well. "Invisible String" from Folklore also applies, but I'm making an effort to narrow the selections down the best I can.
"right where you left me" is Atlas. Although he's the one that moves away and breaks up with Lily (the narrator/protagonist) and the song is from a woman's point of view, his character ends up encapsulating this song perfectly. Here's some lyrics that remind me of his character without spoiling the entire book:
"Friends break up, friends get married//Strangers get born, and strangers get buried//Trends change, rumors fly through new skies//But I'm right where you left me"
"Did you hear about the girl who lives in delusion?//Break-ups happen every day, you don't have to lose it//She's still 23 inside her fantasy//And you're sitting in front of me//At the restaurant, when I was still the one you want"
"I stayed there//Dust collected on my pinned-up hair//I'm sure that you got a wife out there//Kids and Christmas, but I'm unaware//Cause I'm right where you left me"
"I cause no harm, mind my business//If our love died young, I can't bear witness//And it's been so long//But if you ever think you got it wrong//I'm right where you left me"
If you haven't listened to "right where you left me", do it. Now. The last chunk of lyrics shown are some of my favorite lyrics of all time. I mean, c'mon! "If our love died young, I can't bear witness"??? Not to mention the production and build up of the entire song is a magical experience.
"Clean" is a representation of Lily's character. She experienced and witnessed a lot of emotional abuse growing up and was deathly afraid of becoming like her mother who tolerated domestic violence for years. Explaining how "Clean" represents Lily is kind of a spoiler for the book, so I'll just present some lyrics that might be able to paint a picture:
"The drought was the very worst//When the flowers that we'd grown together died of thirst"
"You're still all over me like a wine stained dress I can't wear anymore"
"The water filled my lungs//I scream so loud, but no one heard a thing"
"Ten months sober, I must admit//Just because you're clean don't mean you don't miss it//Ten months older I won't give in//Now that I'm clean I'm never gonna risk it"
Overall, It Ends With Us is a pretty good book. While I was reading, the only thing I could picture were these two songs, which only made me like the book more. I definitely recommend it for those who are in search of a heart-wrenching romance novel. Rating: 4/5 (5/5 if you live love breathe romance novels).
Daisy Jones & The Six: Taylor Jenkins Reid and "Cruel World": Lana Del Rey/"Silver Springs": Fleetwood Mac
This book is outstanding. Taylor Jenkins Reid is an amazing storyteller and in Daisy Jones & The Six, she tells it in the most captivating format. The book is designed to mimic a documentary script and the band "Daisy Jones & The Six" is heavily inspired by Fleetwood Mac. So, of course the book reminds me of the entirety of Rumours. However, this novel reminds me of Ultraviolence by Lana Del Rey and her unreleased songs during that time ("Put Me In A Movie" is a perfect example of this, but it is an uncomfortable listen. Take this as a trigger warning). "Cruel World" by Lana Del Rey and "Silver Springs" by Fleetwood Mac are some of my most favorite songs, and when matched with Daisy Jones & The Six, this book is perfect.
"Cruel World" from Ultraviolence explains the situation that both Daisy Jones and Billy Dunne are in and is backed by psychedelic rock production:
"Shared my body and my mind with you//That's all over now//Did what I had to do//'Cause you're so far past me now"
"You're so famous now//And you like to party and have fun//I'm finally happy now that you're gone"
"Put my little red party dress on//Everybody knows that I'm a mess//I'm crazy"
"Get a little bit of bourbon in ya//You go a little bit suburban and go crazy//Because you're young, you're wild, you're free"
"Silver Springs" from Rumours is one of the many Fleetwood Mac songs that applies to this novel. "Dreams" would've also been a good choice, but the raw emotion in the way that Stevie Nicks used to sing "Silver Springs" to Lindsey Buckingham during live shows mirrors many events within the novel:
"Don't say that she's pretty//And did you say that she loves you?//Baby, I don't want to know"
"So I'll begin not to love you//Turn around, you'll see me runnin'//I'll say I loved you years ago//And tell myself you never loved me no"
"And can you tell me was it worth it?//Baby, I don't want to know"
"Tim cast a spell on you but you won't forget me//I know I could've loved you but you would not let me//I'll follow you down 'til the sound of my voice will haunt you//Give me just a chance, you'll never get away from the sound of the woman that loves you"
The end of the novel presents the lyrics to the songs that the characters made together, and "Silver Springs" sounds like a few of those songs. "Cruel World" presents more of a narrator discussing Daisy Jones' reality while "Silver Springs" projects the same raw emotion that Daisy Jones expressed throughout the novel. Overall, this is one of my favorite books of all time and I highly recommend it. Rating: 5/5 stars. An amazing book!
The Great Gatsby: F. Scott Fitzgerald and "Mirrorball": Taylor Swift
I've been saying this for months, but "Mirrorball" displays Gatsby's relationship with Daisy and the outside world so well. It's almost as though Swift wrote the entirety of Folklore for a character like Gatsby. Throughout the novel the narrator, Nick, often leads the reader to believe that Gatsby lives an extraordinarily and lavish life in order to impress Daisy. The most obvious theme in "Mirrorball" matches that description exactly:
"I want you to know I'm a mirrorball//I'll show you every version of yourself tonight//I'll get you out on the floor//Shimmering beautiful//And when I break, it's in a million pieces"
"I can change everything about me to fit in//You are not like the regulars//The masquerade revelers//Drunk as they watch my shattered edges glisten"
"And they called off the circus, burned the disco down//When they sent home the horses and the rodeo clowns//I'm still on that tightrope//I'm still trying everything to get you laughing at me"
"And I'm still a believer, and I don't know why//I've never been a natural, all I do is try, try. try//I'm still on that trapeze//I'm still trying everything to keep you laughing at me"
Half of the school has read The Great Gatsby, and I recently reread it because it's one of my favorite required reading novels. "Mirrorball" plays in my head every time I read it. I highly recommend if you choose to reread it (or read it for the first time) that you do the same. It slightly changes the way Gatsby is portrayed and makes his efforts to be seen a lot more prominent throughout the novel. Rating: 4.5/5 stars (almost there, I just can't put my finger on what it's missing).
Beach Read: Emily Henry and "Nothing New": Taylor Swift feat. Phoebe Bridgers/"Small Worlds": Mac Miller
Beach Read is a tale about the main character's (January) failed relationships with many different loved ones, most notably being her father. The story also expresses the burnt out feeling she experiences while trying to produce her next novel. January holds heavy anxieties about many different things, and when she meets Augustus, she often worries if he likes her as much as she likes him. She also feels as though he judges the way she writes and her "soft" personality. With that being said, "Nothing New" by Taylor Swift and Phoebe Bridgers captures parts of January's experience:
"Lord, what will become of me//Once I've lost my novelty?"
"I've had too much to drink tonight//And I know it's sad, but this is what I think about//When I wake up in the middle of the night//It's like I can feel time moving"
"How long will it be cute//All this crying in my room//When you can't blame it on my youth//And roll your eyes with affection?"
"And my cheeks are growing tired of turning red and faking smiles//Are we only biding time 'til I lose your attention?//And someone else lights up the room?//People love an ingénue"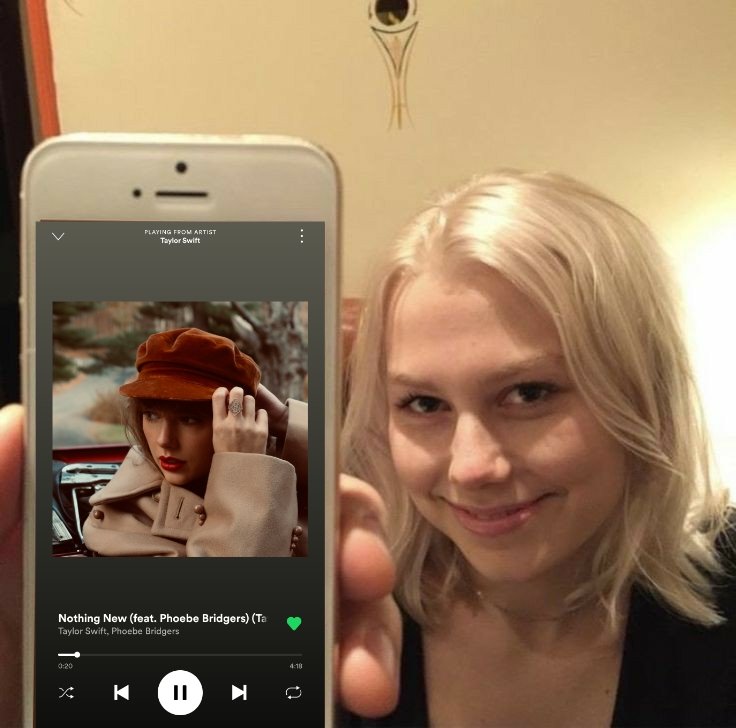 Poor January cannot catch a break in Beach Read. She eventually does get her happy ending, but for the most part, her anxieties and resentment control her thinking to the point where it affects her relationships. When Swift and Bridgers sang "How long will it be cute//All this crying in my room", they had to have been talking about January.
"Small Worlds" by Mac Miller aligns well with the "it's a small world" aspect of the plot; the house she moves into, the people she meets, and her neighbor are all connected in some way. January's internal monologue and conversations throughout the story show that she eventually becomes more comfortable with the state of her life and things start to get better. Whether it be because of a change in perspective or actual "good" things, January relates to a song like "Small Worlds". Mac Miller's songwriting on Swimming is superior, and here he captures the essence of January's experience:
"The world is so small 'til it ain't//I'm building up a wall 'til it break"
"Maybe drunk but I've never been tall//I might trip I never fall//God knows I came close"
"Nobody know me, oh well//It's hard to complain from this five-star hotel//I'm always in a rush, I've been thinking too much but//Keep it on the hush no one need to know but us"
"Ooh, I've been a fool but that's cool//That's what human beings do//Keep your eyes to the sky, never glued to your shoes//Guess there was a time when my mind was consumed//But the sun coming out now//Stars start to move"
Overall, as some may have already seen in my Beach Read review a little while back, I enjoyed this book. I associate some of my favorite songs with Beach Read which makes the reading experience 10x better! "Nothing New" and "Small Worlds" are great songs that are able to connect outside of the personal, niche experience of the singer-songwriter and their connection to this particular novel is a prime example of this.
I've got a few books left to read for April: My Policeman, The Seven Husbands of Evelyn Hugo, and The Bell Jar. Stay tuned for a part 2, because I'll probably still continue to listen to a lot of good music and spend outrageous amounts of money on new books.
Leave a Comment